Hebrides Ocean Conservationist Jess was joined by three pupils and their teacher from Carbost Primary School on the Isle of Skye, for a return crossing from Uig to Lochmaddy with CalMac Ferries.
P6's Katie, Grant, and Logan are active participants in the schools Ocean School Program in which they regularly take part in coastal wildlife monitoring and citizen science projects. As a reward for their dedication to wildlife surveying on the beach in all weathers, their teachers arranged for them to come on a marine mammal survey with me on board the MV Hebrides, to look out for and record whales and dolphins.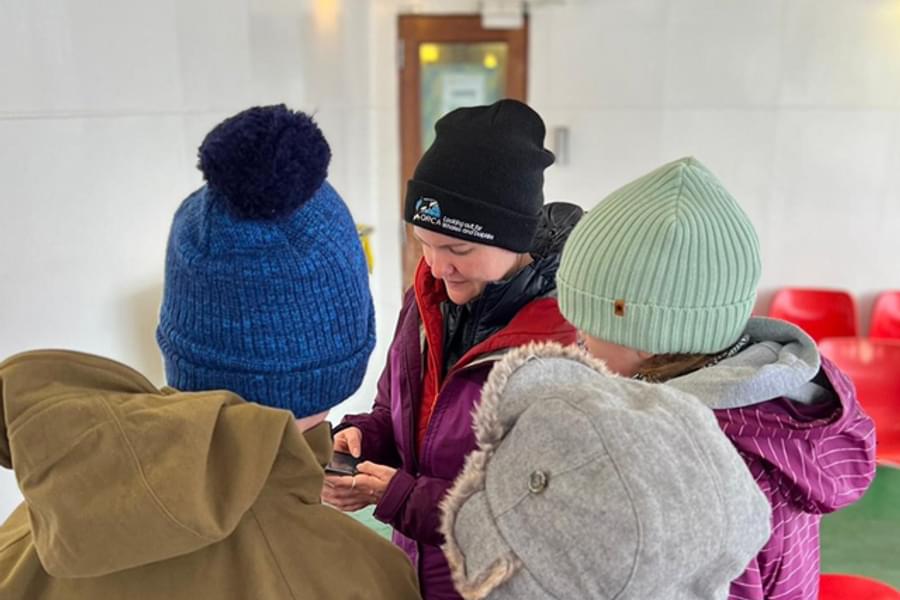 I showed the children how to use the ORCA OceanWatchers App where ORCA Ocean Conservationists record and upload their data to. They learnt how to assess environmental conditions such as the sea state and visibility, which can greatly impact how likely you are to see marine mammals. We began our survey in a sea state 4, which is a challenging sea state for spotting cetaceans in, but the pupils were incredibly enthusiastic and happy to be at sea, and were delighted to have spotted ten different species of seabird.
The pupils then got a fantastic surprise when we were invited up onto the bridge where the captain and the bridge crew gave us a tour and showed them how they navigate and sail across the Minch.
Unfortunately, we didn't see any mammals on our survey, but Katie, Grant, and Logan who are seasoned pros in wildlife surveying, were happy in the knowledge that even when you don't see any mammals, that data is still very important information, and the information they recorded would be put to good use in assessing the conservation status of marine mammals and highlighting important habitats for them.
It was lovely to be joined by enthusiastic young naturalists on board the MV Hebrides. I was very impressed at how knowledgeable the children were about their local wildlife, marine conservation, and environmental issues. A big thank you to both Carbost Primary School and the crew of the MV Hebrides, for helping us at ORCA, through citizen science, to monitor and protect marine habitats and the amazing species that live there.