Hey everyone, Nina here again, back with another instalment from the DFDS King Seaways!
The summer season is well underway, and we've had more sightings across the North Sea. We still have incredibly unpredictable weather on this crossing, but that's half the fun, right?
The stars of the show over the past two weeks have been some incredibly active and sociable bottlenose dolphins which have been sighted on the Newcastle side of the route. Excited guests and I have watched these chunky animals head straight towards the ship, fast swimming and breaching as they reached our bow. It is impressive to see this behaviour as bottlenose dolphins around the UK are the biggest of their species in the world, reaching up for 4m in length. This is due to their fatty-diets and their ability to adapt to the colder waters of the North Sea.
One evening, upon leaving North Shields, several dark grey dorsal fins could be seen from the ORCA observation lounge on deck 7. I rallied up all the guests, ensuring that everyone was aware there were dolphins outside, and we all hurried up to deck 8 to watch them as we sailed past the Tyne piers. We were even lucky enough to spot a small calf, which looked a pale grey-white colour, breaching in front of the bow. It was definitely a newborn, as we could still see the foetal folds across its tiny body! There was an excited buzz out on deck and guests were thrilled to have seen some wildlife so soon during their voyage.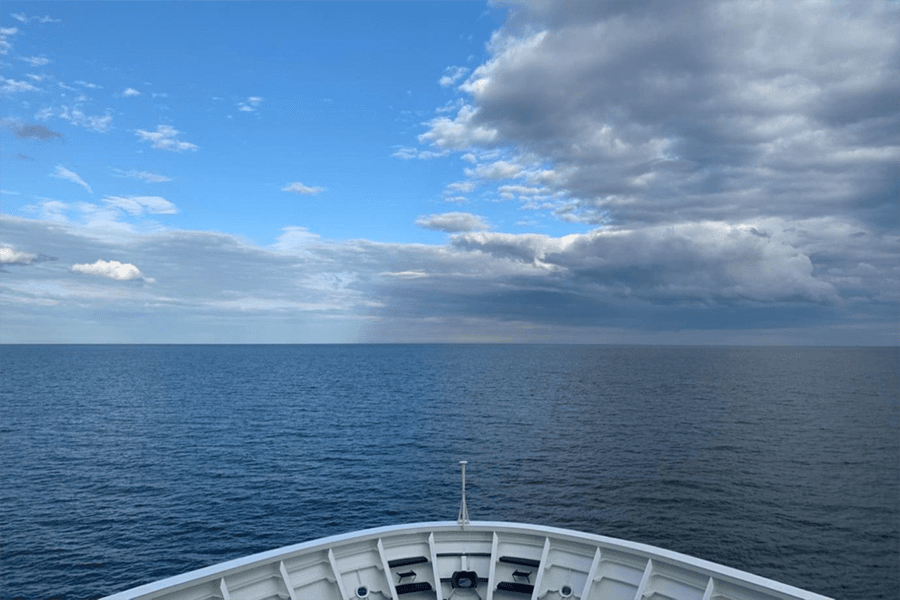 Over the past two weeks, guests have also thoroughly enjoyed listening to presentations on board and learning about the species they are most likely to see during the voyage. We have 4 main species that are seen most frequently and these include the harbour porpoise, bottlenose dolphin, white-beaked dolphin and the minke whale. Harbour porpoises are our most frequently sighted cetacean, and it makes sense as they are the most abundant in UK and European waters! The bottlenose dolphins are up next and are usually spotted anywhere between North Shields and Scarborough, though their range can extend further.
White-beaked dolphin sightings have been less frequent and have usually occurred slightly further from the coast. I saw two white-beaked dolphins last week swim towards the port side of the bow and dive underneath the King, to the starboard side. This fleeting encounter was fast but good enough for a positive ID. This is because they have white blazes along their flanks and a tall, dark dorsal fin, which looks much more prominent than a bottlenose dolphin fin. It was exciting to see and guests outside on the observation deck also enjoyed spotting them!
At the moment, minke whale sightings are few and far between, but we expect to see an increase during the months of July to September, as they peak around this time. Minkes are the smallest baleen whale to be seen on this route and can be quite elusive. Their blow is discreet and their dorsal fins are small, sickle-shaped hooks situated two-thirds along their backs, so they can be quite hard to spot in the swell of the North Sea. In the meantime, I will keep my eyes peeled - check in with me soon for another North Sea update!
Ocean Conservation Nina (North Sea)