OceanWatchers
ORCA surveying offers people from all walks of life the opportunity to actively participate in whale and dolphin conservation.
We are excited to launch our new citizen science monitoring programme; ORCA OceanWatchers. 
We've designed ORCA OceanWatchers to enable everyone to collect data in a flexible way and will enable you to contribute to our conservation work.
The ORCA OceanWatchers online training course, along with a bespoke app (available on iPhone and Android) will enable everyone to collect effort-based data about whales, dolphins and porpoises. This data can be collected at any time, anywhere that you can see the sea, no matter the platform you're on or the people you're with, whether that's from your local beach, on holiday at the coast, scanning the seas from a cruise ship, working on an offshore platform, travelling via ferry, or from your own boat.

Download the OceanWatchers app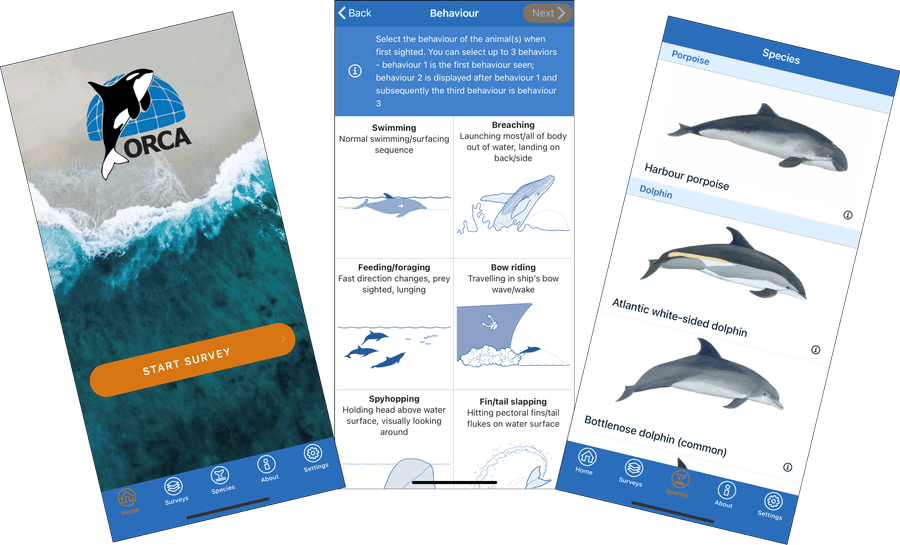 The flexible ORCA OceanWatchers survey methodology and easy-to-use app will enable many people to get involved with our vital monitoring work, and collect data more regularly.
To take part in the ORCA OceanWatchers programme, you will need to:

Attend an ORCA OceanWatchers training course - 2024 course dates coming soon!
Become a member of ORCA
Download and log into the ORCA OceanWatchers app
Get out there to survey; wherever and whenever you like!
The ORCA OceanWatchers course will teach you everything you need to know about how to identify the different species likely to be sighted in UK and European waters and how to use the ORCA OceanWatchers surveying app.
All you need is a passion for whales and dolphins!

The ORCA OceanWatchers programme is designed to complement our two decades of data collection whilst allowing citizen scientists to collect data in new and exciting ways – both on land and at sea.

This programme is designed to complement the vital work that our Marine Mammal Surveyor volunteers do when they are collecting data from the bridge of ships. You can find out more about our offshore Marine Mammal Surveyors here.

This new initiative gives us an opportunity to monitor important habitats so we can continue to drive policy and help create protected areas in UK and European waters.

You may also be interested in
Sea Safari
Experience whales and dolphins with ORCA and join us out at sea.
Become a member
Supporting ORCA as a member is a way everyone can help to protect the ocean.
Training Courses
Help us collect vital data about whales and dolphins whenever you can see the sea.