On Tuesday 12th July, myself and fellow Ocean Conservationist Tony embarked on Ambassador's Ambience for a voyage of discovery around the British Isles. We were hoping to see a myriad of marine wildlife and had our fingers crossed for the days ahead!
Our first full day on board was a sea day and gave us chance to engage with guests out on Deck 14 during our long deck watches. This stretch of our voyage covered the North Sea, where you can see species such as the minke whale, bottlenose dolphin, white-beaked dolphin, harbour porpoise and a few rarer species like common dolphins and humpback whales. The lovely sunshine brought many a guest out of their cabins, and both Tony and I had some really interesting conversations with guests, particularly about the work ORCA does and the role we play in safeguarding the future of whales, dolphins and porpoises. No sightings during our sea day, but there was plenty of time and lots more sea to cover!
Our early deck watch as we arrived at Kirkwall, Orkney, on our second day did not disappoint! We were out on Deck 10 and spotted one lone male orca on the port side. This was an incredibly exciting start! The orca had engaged stealth mode as we didn't spot it again and was either hunting on his own or scouting ahead for the rest of the pod. Tony and I had an inkling it might be the latter, so we did some investigating of our own and went shoreside for a mini adventure. We caught a ferry over to Shapinsay as we'd seen reports of eight orca feeding near The String and Shapinsay Sound. When we arrived, there was no sign of them, so we decided to hike uphill in search of a better vantage point. Halfway up the hill, we managed to spot tall, dark dorsal fins and blow in the distance and ran back down the hill and see if we could get closer. We managed to locate them in the middle of Shapinsay Sound and enjoyed taking photos and watching them feed and play from afar. An excellent start to our voyage and a great sighting on World Orca Day!
Day 3 was a quiet one in terms of sightings. We had a single harbour porpoise pop up briefly as we sailed into Invergordon, along with several grey seals spy hopping and swimming around. As we left Invergordon in the afternoon, one common dolphin breached port side of the ship, giving guests a little show! There were no more sightings for the rest of the day, but we spotted some Lion's mane jellyfish, Balearic shearwaters and lots of northern fulmars!
Tony and I rose early in time for sunrise to start our deck watch. Shortly after we'd started, we both saw seven common dolphins careering towards the ship from the starboard side. They were gone in a flash but certainly made for an energetic start to the day! We didn't have any further sightings in Portree, Isle of Skye, but the weather conditions had treated us well, and we had calm seas and clear skies.
Day 5 was jam-packed with sightings! Our early deck watch provided us with minke whale sightings not too far from the ship, as well as some shy harbour porpoises bobbing away from the bow. We had quite a long day ahead of us in port, so Tony and I decided to venture on a wildlife boat trip around the Isle of Mull. The trip certainly didn't disappoint; we had some harbour porpoises feeding near the harbour, common seals hauled out on the beach and even a golden eagle perched on a ledge as we left Tobermory. A couple of hours into the trip, we had reports of a minke whale sighting in the distance. We headed in that direction, approaching the area at a safe distance and could see some very discreet minke whale blow. Soon enough, we were surrounded by minke whales, including a very large individual and several smaller, inquisitive juveniles. One, in particular, came to investigate the boat and swam underneath, flashing its white pectoral fins at us. The whale even rolled over underwater, and we could see its white belly. En route back to Tobermory, we also spotted a couple of white-tailed sea eagles soaring high above the cliffs – it was a great trip out!
Monday was another full sea day, and we had perfect conditions for spotting cetaceans. The Irish Sea was a turquoise, mirror calm lagoon, and the horizon stretched out ahead of us in each direction. A lot of keen guests interacted with us on Deck 14 during the course of the day, hoping to see some marine wildlife. We saw a number of common dolphin pods approach the ship on the starboard side and make their way to the stern, playing in the wake. We finished the day out on Deck 10, where more common dolphins approached the bow of the ship from both sides and could be seen swimming underwater.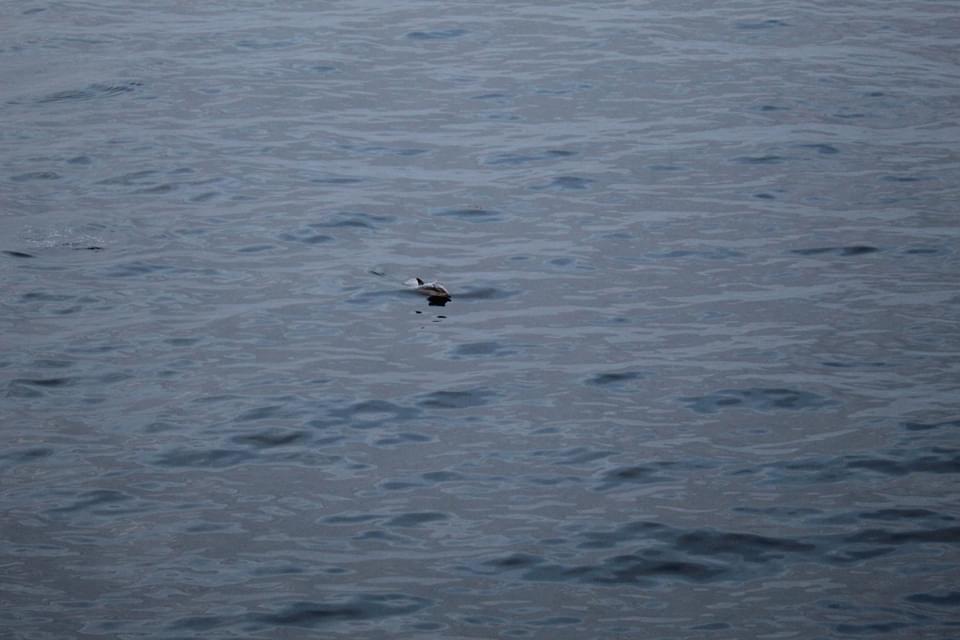 We didn't manage a deck watch in the morning as we sailed into Cobh, as sunrise was 5:40 am, and we were due to dock at 06:00 am. So, we headed out on Deck 10 as soon as the ship left port in the evening and were greeted by a pod of common dolphins porpoising towards the bow. The sea state gradually turned from a three to a four, and it was getting harder to spot anything amongst the white caps and spray breaking the surface. We did, however, enjoy watching low-flying gannets skimming the water's surface, along with Manx shearwaters dipping and diving above the waves.
Wednesday morning started off windy and overcast as we sailed into St Mary's, Isles of Scilly. The direction of the wind made spotting cetaceans difficult, and the grey, cloudy weather reflected onto a dark, moody sea. We didn't see any cetaceans but a smattering of birdlife as we approached our anchor point. Our deck watches as we approached Guernsey and Honfleur towards the end of our voyage were not so fruitful, but we did have some common dolphins splash around near the bow, and a few harbour porpoise mother and calf pairs swim near the ship.
All in all, it was a fantastic voyage around the British Isles. We were treated to flat, calm sea conditions for the majority of the trip and spotted approximately 85 animals across 11 days of surveying. 5 different species of cetacean were recorded, along with grey, common seals and even a basking shark!