As Christmas draws closer, we want to encourage our members and supporters to make a difference to the marine environment and keep Christmas sustainable!
Christmas is full of fun (and glitter), but according to surveys, UK households can produce up to 30% more waste than usual during the festive season. Much of this increase in waste is paper, cardboard and food waste. However, metal and plastic waste is continuing to rise. Plastic pollution in the ocean kills over one million seabirds and over 100,000 marine mammals every year. Plastic harms marine life through entanglement or ingestion and destroys habitats. Even glitter (which is everywhere at Christmas) is a microplastic and can have a huge impact on the marine environment.
By making just a few small changes this Christmas, you can have a wider impact on the marine environment, so here are a few ideas so you can do your bit this Christmas and protect our oceans:
1. Plastic-free wrapping
Many companies are continuing to improve their wrapping paper to make it recyclable and have even removed the plastic packaging it comes in, but most wrapping paper is, in fact, not recyclable (especially those covered in glitter). So how can you make your presents waste-free?
Give your presents a nostalgic look and use something fully recyclable to wrap them, like brown paper or decorative fabric. Avoid using sellotape to secure your gifts and use paper twine to tie them up and natural decorations like spruce and holly leaves. Finally, give your presents a final, personal touch by using recycled scrap paper to make your own tags - if you're feeling creative, you could even decorate the brown paper using homemade potato stamps and vegetable-based ink.
2. Alternative Christmas cards
Many people are now steering away from sending Christmas cards and are even donating the money they would have spent on purchasing and sending them to their favourite charities.
So how can you make sending Christmas cards better for the environment? Reduce microplastics and send cards that aren't covered in glitter, or instead of posting cards, find a fun and quirky e-card to send to your friends and family – a much cheaper alternative too!
3. Decorations
Who wants their Christmas decorations to look the same as everyone else? So why not make your own unique plastic-free decorations - a fun activity for all the family to get involved with!
Head to your local garden centre for seasonal sprigs, including holly and mistletoe, which make attractive rustic additions to your decor. You can make your own decorations from scrap fabric, old packaging and even bits of wood and pinecones.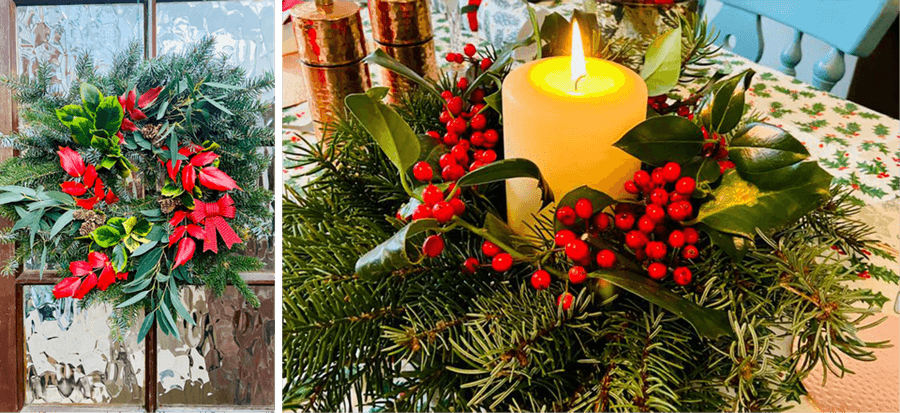 You can get your children involved in making paper snowflakes and paper chains which they can decorate themselves (but remember not to cover them in glitter!). Why not make your own salt dough decorations or even Christmas cookies to hang from the tree?
Finally, make sure you have a sustainable Christmas tree! If you've got a fake tree, keep using it and make it last as long as possible! If you do opt for a real tree, try and get one with an FSC logo or one approved by the Soil Association. Even better, you could rent a Christmas tree.
It is reported that six-eight million real Christmas trees end up in landfill in the UK every year, so renting a tree not only reduces waste, but it is much better for the trees themselves and the environment too. Find a local grower, choose your tree, collect it or have it delivered and enjoy! You can then return your tree, and it is cared for and continues to grow throughout the year! The same tree could be in your living room again the following Christmas.
4. Christmas food and drink
The Christmas food shop is always a bit of a panic but makes sure you don't forget your reusable bags!
Many supermarkets are improving their packaging by making it more environmentally friendly, but when you're buying your Christmas treats, try to avoid food products with lots of unnecessary packaging and take your own air-tight containers for fresh foods. Support local businesses and ensure you are buying less packaging by heading to your local farmer's markets and greengrocers to get your fruit and veg and even visit the local bakers for your bread, cake and mince pies - or bake your own! If you want to avoid the crowds altogether, get a Christmas veg box delivered to your door!
When buying your drinks, opt for wine bottles with corks (cork is entirely sustainable, and no trees are cut down) or beer cans in boxes rather than plastic rings. And remember, when you are enjoying a Christmas cocktail, avoid using a plastic straw or plastic drinks stirrers.
5. Eco Christmas crackers
Can you even remember the gifts from your cracker last year? Many shops are beginning to offer alternatives with games, food and drinks in them, but why not make your own and personalise them for each guest? If you did want to buy the traditional ones, look for crackers made from recycled materials.
6. Make your own advent calendar
Reduce unwanted plastic and packaging by making your own advent calendar - it is also a great way to have your favourite treats!
7. Gifts
Why not give green this year? Whether they are plastic-free, long-lasting, sustainably sourced or compostable, eco-friendly gifts are becoming a lot more popular and readily available.
There are lots of choices when buying ethical gifts for younger children. From puzzles, push-along animals, musical instruments, building blocks and toy food, wooden toys are making a comeback! These can be passed onto others when they are outgrown or even given to a charity shop! Alternatively, you could choose to support ORCA by purchasing a FinFriends membership. Any child aged 4-11 can be a FinFriend and be taken into the wonderful world of cetaceans whilst doing their bit to support ORCA's work.
When buying gifts for older children or adults, consider these things:
What is the product made from, and where was it made?
Will the product last, and why am I buying it - does the recipient really need it?
What are the brand or shop's eco-credentials? Do they do anything to be green or have bio-degradable and eco-friendly packaging?
When shopping online from as few retailers as possible, so there are fewer orders to be delivered and organised - don't rely on next-day deliveries!
If you are heading to the shops, take your own reusable bags!
You could also choose to support a charity this Christmas. Why not Give a Gift to ORCA and help us create safe spaces for whales and dolphins around the world. Our appeal is running throughout the Christmas period to try and give our Ocean Conservationists the equipment they need so they can do what they love, looking out for whales and dolphins, collecting data about these amazing animals and educating the public.
Please support our work and help give our people the tools they need to protect whales, dolphins and porpoises. Every small donation can really make a big difference.