In April ORCA and Fred.Olsen worked together on a very special itinerary that has been almost three years in the planning. Head of Partnerships, Steve Jones, was onboard and writes about his experience on the ship.
Back in 2019, we were taking our first steps forward with a wonderful new partner in Fred.Olsen, a company that shares our passion for the ocean and our love for whales and dolphins.
To give ourselves an extra special element to this new programme, we started talking about unique itineraries we could collaborate on, and what we cooked up was very special indeed.
We wanted to find a way to embed our conservation work into a cruise itinerary from the start, so our plan was to follow the same route that the great whales take when migrating north for the summer months.
This would give us the chance to collect data in areas that have not been studied in depth in the past and would help give us an insight into the route that these amazing, great whales take and show guests first-hand about the incredible journeys whales make every year.
So we boarded Borealis in Liverpool in late April and started this voyage. Our route was planned to take us down to the Azores, then travel north to Iceland through the mid-Atlantic Ocean, before returning to the UK through the Hebrides.
Our southbound trip didn't get off to the best start weather-wise - we found ourselves on the edge of a big storm in the Atlantic and had to sail further south to avoid the worst of the weather. However, getting to know the guests on board, it was clear we had a hardcore group of whale and dolphin enthusiasts, and despite the weather, we managed to spend some time on deck and enjoyed common dolphins, striped dolphins, minke whales and sperm whales amongst other species!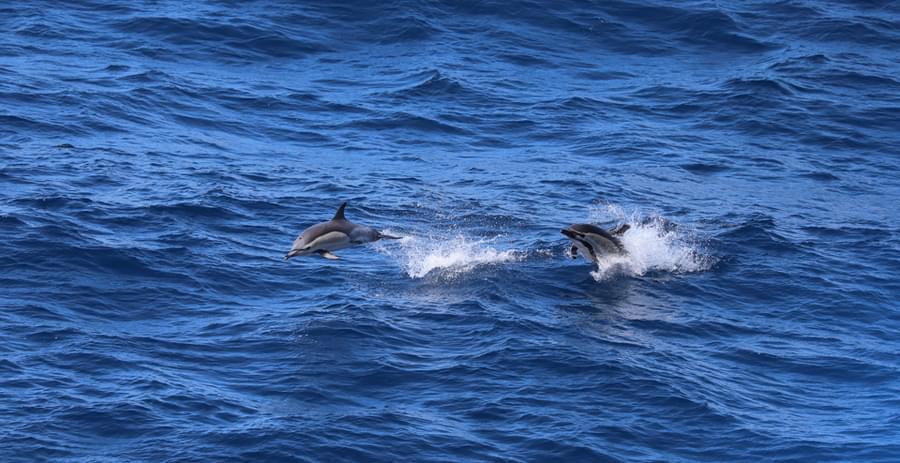 After a couple of days exploring the Azores, we started the journey north and headed into unexplored territory, and wow, were we in for a treat! In four days northbound, we had almost a dozen different species, including three species of beaked whales, fin whales, sei whales, blue whales, sperm whales, huge groups of dolphins and even a late evening encounter with an orca!
Iceland was our next stop, and with four ports, we had plenty of time around this whale-watching haven. The stars of the show were undoubtedly the humpback whales, who were ever-present during our time around the country, but they had a fantastic supporting cast with playful white-beaked dolphins, elusive minke whales and plenty of harbour porpoises too!
This itinerary gave us a chance to collect data in an area we know surprisingly little about. The wonderful guests who joined us had some unforgettable encounters with an astonishing 17 different species of cetacean during the trip!
We're so grateful to the entire Fred. Olsen team, for making this very special cruise happen, and also want to say a huge thank you to the guests who joined us! We're hoping this trip will give us a new insight into whales and dolphins in the north Atlantic and that we will have the chance to make this wonderful journey again very soon!