Citizen Scientist Kev Barwell has been out recording his marine mammal encounters around the UK on the ORCA OceanWatchers App, and has seen a huge variety of exciting species.
Kev first caught the cetacean-watching bug in 2016 when he met a team of ORCA Marine Mammal Surveyors on a cruise around the UK with Saga. He then took part in ORCA's Marine Mammal Surveyor course, a one-day training course that enables volunteers to survey for marine wildlife with ORCA on ferries and cruises ships. He then went on to do the ORCA Ocean Watchers online training course which teaches participants how to carry out marine mammal surveys both at sea and on land using ORCAs bespoke App. Since then Kev has been doing surveys for ORCA on the App, collecting data in his free time that will help ORCA to assess that conservation status of cetacean species and to identify critical habitats.
This year Kev took a trip up to the North Coast of Scotland to take part in Orca Watch with the Sea Watch Foundation. Whilst there he surveyed from the Pentland Venture Ferry from John o' Groats to Burwick and from locations on land around the area using the ORCA Ocean Watchers App.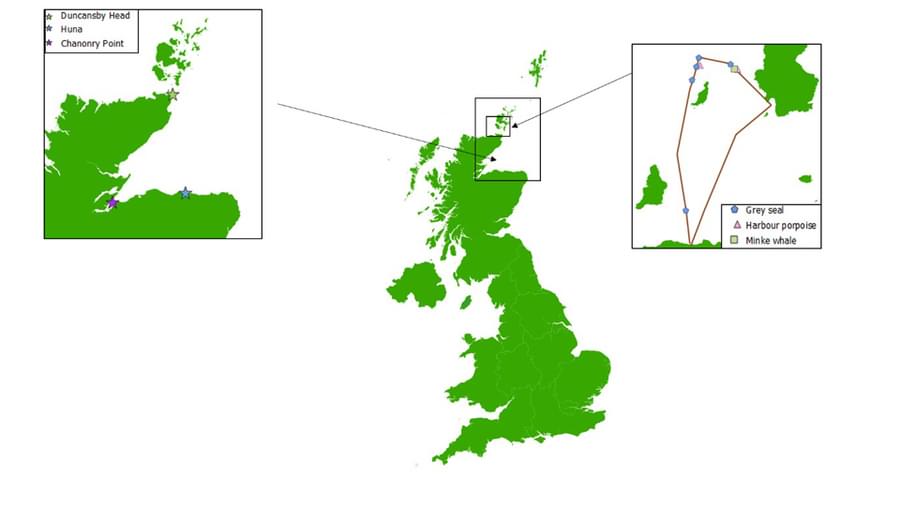 The image to the right of the map shows the ferry route from mainland Scotland to the Orkney Isles and some of the mammal sightings on the way. The image on the left shows the three sites where Kev surveyed from land. You do not always have to be on a boat to get excellent views of cetacean species. In fact, there a plenty of great places around the UK where you can walk along the coast, have a picnic, and survey for whales and dolphins at the same time.
The App is not just for cetacean species. Other marine animals such as pinnipeds (seals, sea lions, and walruses), otters, sharks, turtles, and even polar bears can be recorded on the app. You might wonder why tropical animals like turtles, or Arctic species like polar bears feature on the App, but the App is designed to be used worldwide. Also you never know what might pop up on a survey. Marine animals are sometimes known to venture far from their normal ranges. You may remember Wally the Walrus making a splash in Cornwall, and Benny the Beluga whale wowing crowds along the River Thames in Kent! It is important to record these unusual visitors when we see them so we can work out why they are there and how they got there, and if they are in need of assistance or if their location is cause for concern.
It is possible to see a third of the world's cetacean species in European waters and an amazing variety of species call the UK home. The ORCA Ocean Watchers App not only helps people to contribute to science in an easy and accessible way, but it encourages people to venture out into the UK coastline, a rich habitat where you can experience beautiful landscapes and spectacular wildlife. Thank you to Kev, and to all of the citizen scientists who record their sightings data for ORCA, for helping to safeguard the future of cetaceans and their habitats.
Find out how you can become an ORCA OceanWatcher here.
All photos by Kev Barwell.