ORCA's partnership with Hurtigruten launched in 2019 with an Ocean Conservationist on a pilot cruise to the Antarctic. Following the success of this pilot expedition, since 2021, Ocean Conservationists have joined the expedition team on MS Maud and MS Otto Sverdrup. Alongside our permanent presence on MS Maud and MS Otto Sverdrup, Ocean Conservationists will also be joining selected Hurtigruten itineraries throughout the year.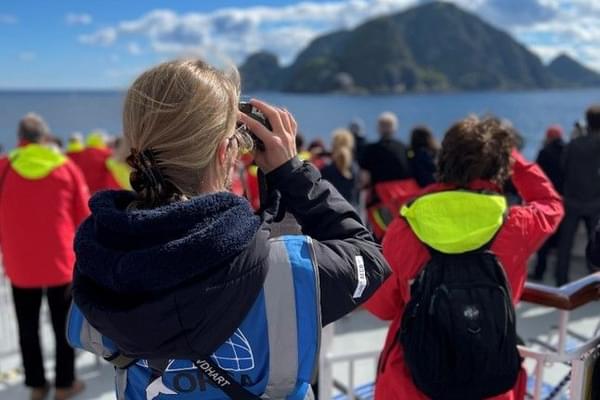 Our Ocean Conservationists are highly trained wildlife experts who deliver unforgettable wildlife experiences onboard Hurtigruten ships across the world. These passionate and dedicated individuals showcase the incredible diversity of wildlife that can be spotted from the decks of ferries and cruise ships, helping guests onboard learn more about the marine environment. Through this programme, ORCA can not only inspire people from all walks of life but also collect vital scientific data that can be used to help protect whales and dolphins around the globe. Alongside this, our Ocean Conservationists deliver a range of exciting and engaging activities, including wildlife watches on deck, lectures and workshops and shore excursions.
As well as delivering guests facing activities, ORCA also partners with Hurtigruten to deliver a number of conservation programmes.
Ocean Conservationists onboard our coastal voyages collect data about the whales, dolphins and porpoises they see in important marine habitats.
Whilst on our expeditions our Ocean Conservationists support the expedition team and identify hotspots for whales and dolphins during the amazing itineraries and places the ships visit.
"Hurtigruten Expeditions is proud to be working with ORCA. The presence of Ocean Conservationists on board our Expedition Vessels has improved our guests experience and they are a valued part of our expedition teams. They are extremely knowledgeable and share their knowledge with passion. Getting the guests involved in learning whilst collecting valuable data to the health of our oceans is a win win for both ORCA and Hurtigruten Expeditions"

Dr. Verena Meraldi Chief Scientist at Hurtigruten Expeditions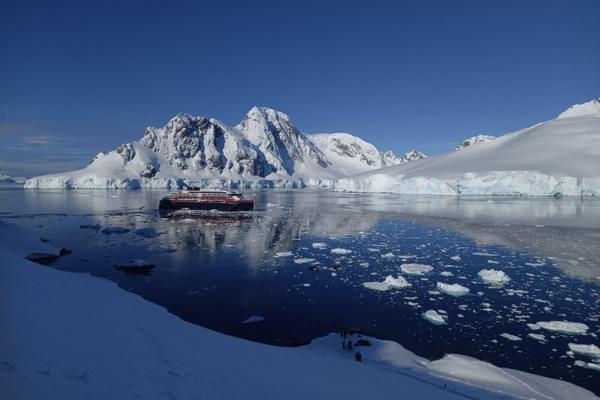 Hurtigruten Expeditions
Hurtigruten Expedition is the world's leading adventure travel group, offering unique small-ship and land-based adventures from pole to pole – and anywhere in between. Focusing on exploration, adventure, and science, they have been taking adventure travellers to unique and inspirational destinations off the beaten path since the founding of expedition cruising in 1896. Hurtigruten is revolutionizing the travel industry's approach to sustainability, allowing them to offer authentic local experiences while leaving a footprint to be proud of — both in nature and with the communities they visit. Currently, Hurtigruten Expeditions offers over 150 itineraries across five continents.
Find out more